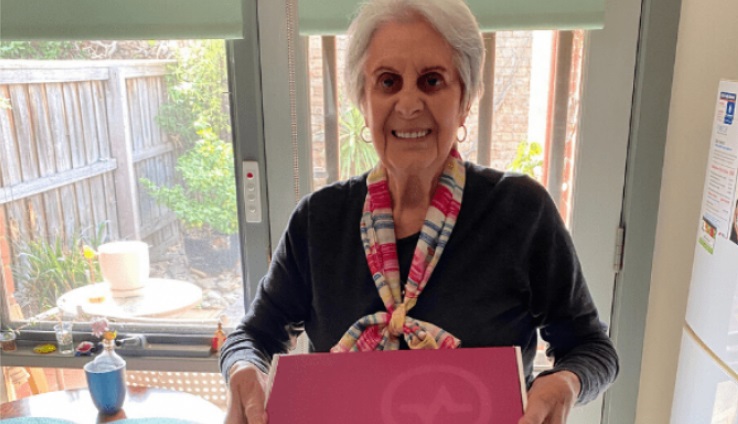 As a Victorian service provider for those who are marginalised, VMCH was especially conscious of the impact of social isolation on home care clients during COVID-19 lockdowns.
Social isolation in lockdowns was generally associated with poorer physical and mental health in older people – mainly anxiety, depression, poor sleep quality and physical inactivity.
Umps technology
In March 2020, VMCH introduced Umps Smart Home technology for at-home aged care clients. Umps reinterprets the traditional methods of monitoring, such as personal alarm pendants and fixed home alarms, and looks for abnormalities in clients' everyday routines that could indicate the presence of a health issue.
Umps collects data from smart power plugs that measure when clients use their household appliances, like boiling the kettle, turning on the TV or opening the fridge door. Umps learns a person's usual routine, and can send an alert to a carer or family member if the routine suddenly changes – potentially due to a health or safety issue.
Changes in usage may be subtle, such as a decrease in activity levels, decrease in fridge use or increase in appliance activity overnight.
Additionally, Umps raises inactivity alerts if appliances haven't been used for an unusually long time. This means that in the event something happens and the client can't activate their personal alarm, they have an added safety net.
Enabling independence
Older people should remain in their own home for as long as they feel safe and comfortable to do so, doing the things they love.
Umps supports safety, independence and wellbeing at home, so clients can maintain their independence, with the comfort of knowing someone will be alerted to help them, in the event they need it.
Family members also benefit from knowing their loved one is maintaining their routine, freeing them to enjoy their relationship rather than checking in on their basic metrics, because Umps is taking care of that.
The introduction of Umps allowed VMCH to take extra steps to support clients with reduced face-to-face contact with family or care workers during COVID-19 lockdowns.
Personalised support
Prior to calling clients, VMCH case managers utilise the data that Umps provides, the 'Insights Viewer', to check if their routine seems as normal. The Insights Viewer uses a traffic light symbol to highlight clients that have significant abnormalities in routine, which could indicate a decline in health and wellbeing.
This means that the discussion prompts can be more personal, and less obtrusive, when it comes to knowing if they are OK. It can provide the client with an opportunity to talk about their life, and create a connection with their case manager. It can also prompt welfare checks.
The use of Umps technology also enables VMCH to reassess their clients' Home Care Package requirements, if needed, to make changes to support them remaining at home for longer. The regular flow of information can avoid a slow progression of ailments or issues, which may have otherwise gone unnoticed and led to premature admission to residential aged care, particularly if people live alone.
The insights allow VMCH to consider different ways of providing care, and to be more proactive in their response to the needs of their clients.
Umps is part of their aim to be more adaptive and client-centric, and to improve the way they provide care, through the use of technology.
More information
https://vmch.com.au/
https://umps.com/
VMCH and Umps was a Finalist in the innovAGEING Increasing Care and Productivity Award 2020.