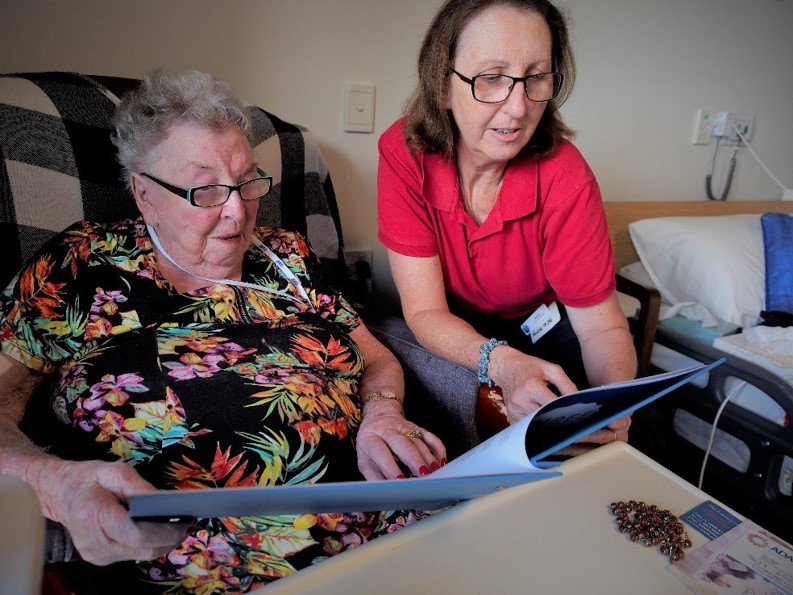 The final report of the Royal Commission into Aged Care Quality and Safety identified loneliness and isolation as key challenges that confront seniors living in residential aged care.
In her previous work as a volunteer in aged and palliative care, Associate Professor Catherine Dhavernas from Griffith University gained an appreciation of the rich heritage in residents' lives, that would be lost if no one cared to listen to their voice.
Biography Project
St Vincent's Care Services Carseldine, Kangaroo Point and Southport were approached by Associate Professor Dhavernas to facilitate a Biography Project towards the end of 2020.
The project involved students from Griffith University meeting with aged care residents virtually each week, to find out more about their rich histories and lives, opening up an intergenerational communication channel.
At the end of the project, each resident was presented with a bound copy of their biography, as recorded and told by the student.
Intergenerational benefits
This ongoing project hopes to make students more aware of the challenges that seniors may face, and to enhance both the quality of the residents' lives, as well as their own. Sharing stories especially when people are feeling isolated or forgotten helps older people feel validated, and that their lives matter.
Some students reported that while they were initially apprehensive to meet with their resident as they had never spent time with an older adult, they found it easy, enjoyable and enriching to do so. Despite the generational gap, students found that they had many aspects in common with residents, and were able to share their own experiences, and formed meaningful connections with them.
The value of the story
Having their story recorded in book form allows older people to share their histories with family members and friends. All participants in the Biography Project were grateful to have something to pass onto children and grandchildren. In some cases, children of residents said they enjoyed reading through their parent's biography during their visits with them. Sharing the stories and the printed biographies also helped residents open up about themselves with care staff.
Residents who participated said they enjoyed spending time with students. The experience of telling their story brought back memories that they had not thought about in a long time, and allowed them to reconnect with, and find meaning in, their past. The process made most residents realise how much they had done in their life when, initially, many thought they'd done very little.
Recognised by industry
St Vincent's Care Services and Griffith University were recognised as a finalist in the Enhancing Consumer Experience award in the 2021 innovAGEING National Awards.