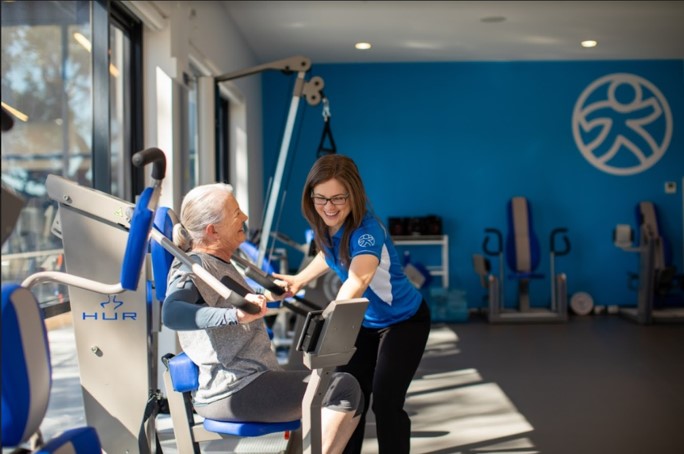 Functional decline has been identified as the leading complication of hospitalisation in the elderly. It can result in under-nutrition, dehydration, decreased mobility, loss of independence, accelerated bone loss, depression, pressure ulcers, skin tears and incontinence.
One of the key factors in relation to functional decline is mobility. If people are unable to move freely, they are less likely to be able to function well in all areas of life – from social interactions to personal care.
STRC Program
The Short-Term Restorative Care (STRC) program is an Australian Government initiative implemented by Southern Cross Care (SA, NT & VIC) that aims to reverse or slow the functional decline of older adults. It is an eight-week program that focuses on a holistic concept of ageing, recognising the importance of physical, social and emotional elements.
While guidelines for the program are available, they do not clearly define which allied health services to prioritise when delivering the program or specify the regularity of servicing to achieve meaningful outcomes.
Program delivery
SCC applies their health-for-all policy to deliver the STRC program in an evidence-based and holistic way. All clients are assessed using a comprehensive assessment battery that collects data on mental health, quality of life, subjective and objective physical wellbeing.
An average breakdown of SCC's 8-week STRC program includes approximately 38 services consisting of 13 supported exercise sessions, five each of exercise physiology, physiotherapy, massage and social engagement services, and one each of nursing, social work, dietetics, podiatry and occupational therapy.
Clients' goals are identified through a multidisciplinary and collaborative approach that explores what is important to the client and aligns this with clinical goals based on assessed needs.
Regular client contact and weekly multidisciplinary meetings inform care plan modifications and facilitate service progression, with service frequency increasing each week as the client's exercise tolerance increases.
The benefits
A recent evaluation of participant data shows that SCC's STRC clients experience, on average, a 47 per cent increase in functional wellbeing, and an improvement in mental and self-rated health across the eight week program.
Moreover, participants remain engaged in their wellbeing journey through centre-based exercise after the program, and are more likely to request allied health and therapy options when transitioning into a home care package.
Ultimately, the program highlights what can be achieved with holistic assessment, targeted care planning and multidisciplinary service engagement.
Recognised by industry
Southern Cross Care (SA, NT & VIC) was recognised as a finalist in the Realising Wellness and Reablement category in the 2021 innovAGEING National Awards.