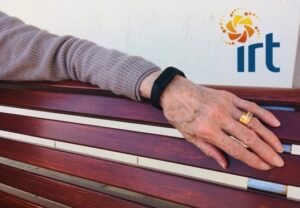 Residents with early onset dementia who wander from sites can be a big problem for aged care providers. Locating them can sometimes prove difficult, creating stress for everyone involved, and potentially limiting the independence of individuals.
With no effective products available to help address this issue, IRT Group decided to develop its own. In 2017 IRT Group assembled a Resident Safety Project Team to tackle the industry problem of locating residents with early onset dementia who wander from sites.
The 'Resident Location' project: A bespoke tech solution
The project team, together with the help of Professor Richard Flemming from the University of Wollongong, devised a plan to adapt technology from other products and industries to build a bespoke system.
IRT Group identified a Melbourne-based company 'IotTag' that had already developed an asset tracking system. IotTag's product 'NutTag' was originally designed to locate missing domestic items (such as keys or bags) and was already for sale in Australia.
IRT Group subsequently partnered with IotTag and began development of a custom system comprising of hardware (tags and nodes) and a staff app/portal which was tested in a two-stage Proof of Concept (PoC) at IRT Woonona/IRT Kangara Waters.
The PoC was completed successfully in May 2019 and IRT Group then moved into the implementation phase of the project with the system now operational at IRT Kangara Waters.
Proactive adopters of new technology
IRT Group are fast adopters of currently available technologies and have also increasingly become proactive in the development of new technologies.
Developing new, innovative technologies allows IRT Group to develop new possible business models as well as increasing their service delivery commitments to residents in care and in the home.
The 'Resident Location' project has re-enabled a number of residents. An example is a resident from Kangara Waters who uses the device daily to leave site and visit Belconnen village. His independence has been increased and his move into secure dementia will be prolonged if not avoided all together.
Staff believe that in time this will free beds in care and secure dementia and may lead to individuals leaving care or secure care and moving back to low or self-care.
At care sites where the solution is installed IRT Care is incurring the cost of the system deployment and ongoing fees so as to continue to provide safety and independence to their customers.
Changing lives across Australia
IRT Group has begun development of a business model by which this system can be sold/charged to and deployed in the home of current customers. This will support family, carers and people living with dementia with increased security, independence and peace of mind.
IRT Group are very proud of co-designing a product that will eventually be available to other aged care providers and the community, changing the lives of so many Australians.
The next phase will include further roll-outs and the implementation of a community drive piece in which local community can download an app that allows IRT Group to leverage the GPS data and locate residents with more accuracy.
Once the bespoke solution is in place at selected IRT Group sites, IotTag will offer a generic version of the system to the general public and other aged care providers.
For more information, please visit www.irt.org.au