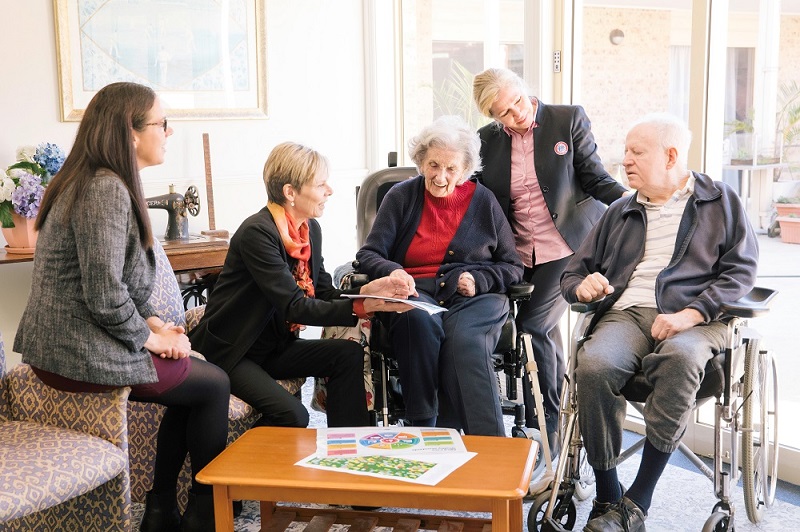 To meet the needs and preferences of seniors, deliver great customer outcomes, and provide increased job satisfaction for employees, RSL LifeCare decided to create a new and innovative service delivery model.
This entailed transitioning from a traditional medical model of aged care to a more consumer-centred quality-of-life experience, and in doing so, they needed to ensure the following elements:
The need for a safe and comfortable home for older Australians.
The need to provide better service and greater choice for older Australians.
The need to remain competitive in an expanding industry sector.
Meeting the demands of a changing regulatory environment.
A new approach
Their co-design process started with customer input from two Residential Aged Care Homes (RACHs). Using a scientifically proven global best-practice tool, they measured their customers' preferences and the degree to which they were fulfilled by asking 40 questions relating to all aspects of their daily living, care and environment. They then asked employees similar questions.
Using this data, RSL LifeCare developed multiple heat maps for each RACH. Overlaying the heat maps for both sites, they looked for opportunities to better meet the needs of their customers─from an individual, community and organisation perspective.
The AIM model of care
Co-design workshops with customers and employees to discuss the data and possible solutions led to the creation of RSL LifeCare's All Interactions Matter (AIM) model of care and service delivery.
AIM's three elements are: Relationship Centred Care, Flexible Dining, and Leisure and Lifestyle.
After completing a successful pilot program in two RACHs, AIM is now being rolled out across all RSL LifeCare RACHs, changing the way they work.
With AIM, increased customer choice and care is tailored to the individual, by delivering Relationship Centred Care. Customers, not tasks, are the focus.
Customers can now be assigned with the same employees (Registered Nurses, Carers, Catering and Cleaning), and provide input into these and other decisions.
Relationship Centred Care encourages the development of relationships between employees and customers, resulting in:
A better understanding of our customer preferences and their fulfilment.
More flexibility for employees to meet our customer needs.
More accurate understanding of employee performance and training requirements.
Continuous improvement
With AIM, RSL LifeCare continues to seek input from customers and employees to ensure they are delivering good outcomes that are measured quarterly, including:
Increases in satisfaction of customers and their families.
Significant improvements in clinical outcomes.
Reductions in employee sick leave and turnover.
Good analytics were essential to the design and development of AIM and continue to be important in continuous improvement and innovation. This involves:
Seeking input from customers, family members and employees.
Analysing data on multiple levels, using UX tools commonly employed by innovative organisations in other industries (e.g. banking, finance and telcos).
Repeatedly re-measuring and testing new services.
More broadly, AIM is part of the continuous improvement valued by RSL LifeCare. As part of continuously improving their business, RSL LifeCare appointed a new CEO, Laurie Leigh, in September 2018. A new Board of Directors, an organisational restructure, a refresh in the Executive Leadership Team and a review of policies and procedures are also part of current change and growth.
For more information, please visit www.rsllifecare.org.au