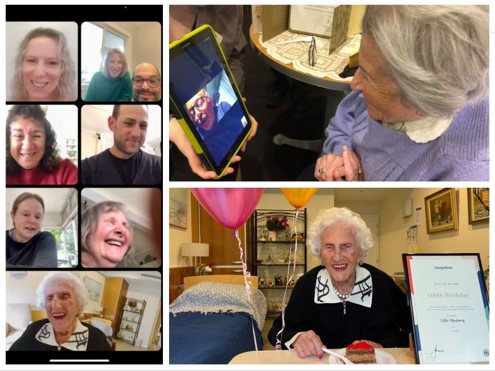 The COVID-19 pandemic resulted in an extensive lockdown for residents of residential aged care homes in Australia, with residents confined to their rooms for extended periods in order to protect their physical health. While this undoubtedly saved many lives, it also impacted mental health, particularly depression.
To specifically address this concern, Montefiore developed the Emergency Mental Health and Well-Being Plan, known as the Engagement Plan.
The Engagement Plan was designed to ensure their consumers were kept engaged and mentally fit through the lockdown period and beyond. The focus was on resident well-being, positive mental health, and engagement via a structured plan of multidisciplinary team involvement.
The Engagement Plan utilised tablets to facilitate 1:1 conversation with resident's friends and family, and engagement resources such as audio files and links to virtual adventures.
Key elements
Delivery of the Engagement Plan was based on educating care staff about mental health, and empowering them and thereby residents, in using mental health strategies.
The key elements of the Engagement Plan were resources and support for staff, including:
Daily huddles to identify residents who were at risk of isolation
Linking residents with their families and friends via video
Online video and training modules
Engagement resources and activity boxes
Mental Health and Well-Being Skills Training
Mindfulness Practice Training Resources
Engagement guides for clinical and casual and agency staff
Promising results
The Engagement Plan allows Montefiore to improve their consumer-directed care by pairing services with identified needs. The Engagement Plan provides a framework by which at-risk consumers can be identified and then supported by trained staff, who can provide individualised care.
As a result of upskilling staff and identifying at-risk clients, there was a significant decrease in the number of self-harm prevention plans completed throughout 2020, with feedback from residents and their relatives indicating high levels of satisfaction during this difficult time.
Increased staff knowledge around signs and symptoms of anxiety and depression, and ways to engage and support residents, has built capacity and will provide long-term benefits for the people in their care.
Recognised by industry
Montefiore was recognised as a finalist in the Enhancing Consumer Experience award in the 2021 innovAGEING National Awards.