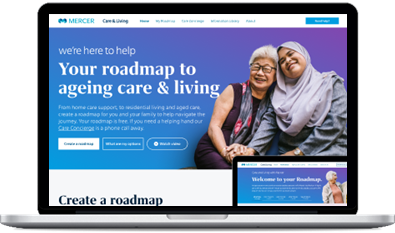 When Lyle found both her parents in hospital at the same time, she knew she needed help. Her dad, who suffered a stroke, was the primary carer for her mum who has diverticulitis.
With both parents now suddenly needing high care, it was a troubling time for the Lyle's family and they weren't sure where to turn for help. That was when Lyle remembered that her employer, Marsh, had something that could.
A roadmap for ageing care and living
Lyle first heard about Care & Living with Mercer when her employer ran an information session about the new employee benefit. This offered the unique service of supporting its workers who have ageing family members.
Lyle went onto the Care & Living with Mercer website and used the personalised roadmap service to create care plans for each of her parents.
However, her parent's situation was deteriorating rapidly, so Lyle and her sister decided to engage the Care & Living with Mercer 'Care Concierge' service (an optional extra) whereby an ageing care professional supports Lyle's family through the entire process of finding the right care and living arrangements for her parents.
Not just for those emergency situations
Meanwhile, in Brisbane over a casual Sunday lunch, Stephen and his sisters were discussing care plans for their parents. Stephen sat down with his parents, during the week, and used Care & Living with Mercer to create roadmaps for themselves, according to their wishes for the future. For Stephen's parents, their goal is to continue living safely, healthily and independently in the comfort of their family home. Everyone was pleased to see that Mum and Dad are on the right track.
"A few of those actions suggested by the Care & Living roadmaps were things my parents are already doing. It did, however, highlight some areas that they hadn't yet prioritised, as well as providing some very useful downloadable tools to document key information for Mum and Dad," said Stephen.
Enter the miracle worker… when you just need a helping hand
After assessing the needs of Lyle's parents and helping her start the MyAgedCare process, the Care Concierge team worked tirelessly ahead of the Easter long weekend to source reputable respite accommodation for her parents.
Lyle credits the Care Concierge team with "working miracles" saying the help they received during her parents' health crisis made her "cry in relief."
Apart from assisting Lyle's family with crisis respite care, the Care Concierge team also helped to connect them with a specialist estate planning lawyer—other important parts of the ageing care puzzle.
Peace of mind now and into the future
For both Lyle and Stephen, Care & Living with Mercer provided invaluable support, the best possible outcomes and peace of mind for not only their parents but their entire families.
For their employers, it's a welcome addition to their employee benefits program, helping to support employees wellbeing at a difficult time—which reduces their emotional stress, time and cost for arrangements, whilst minimising the impact of productivity loss for the employer.
Helping trusted organisations help their people
Making it easier for ageing Australians and their families access timely support is something Mercer has long been passionate about and the reason behind the launch of Care & Living with Mercer.
Already, the service is delivering on its aim of being the most widely used service of its kind to support Australians and their families to find the right ageing care and living arrangements for their needs.
Care & Living with Mercer is available to corporates, superannuation funds, advisors, consumer-oriented service providers and associations to provide trusted, independent ageing-care support for their employees, members and customers. The service spans the entire continuum of care from living at home to independent retirement living to residential home care. The service was launched in April 2021 and has the potential to be accessible by up to one million Australians by its first anniversary.
Supporting Ageing Care Providers
Through Care & Living with Mercer, Mercer is a "friend" and advocate within the ageing care industry. The objective is to develop strong trusting relationships which helps facilitate open and professional due diligence on providers who in turn will be referred to customers for the providers' services.  Care & Living with Mercer operates on a fee for service basis, with no commissions taken from providers hence there is no fee for customer referrals and placements.
For more information, please visit: https://www.mercer.com.au/what-we-do/workforce-rewards-and-talent/care-and-living-with-mercer.html