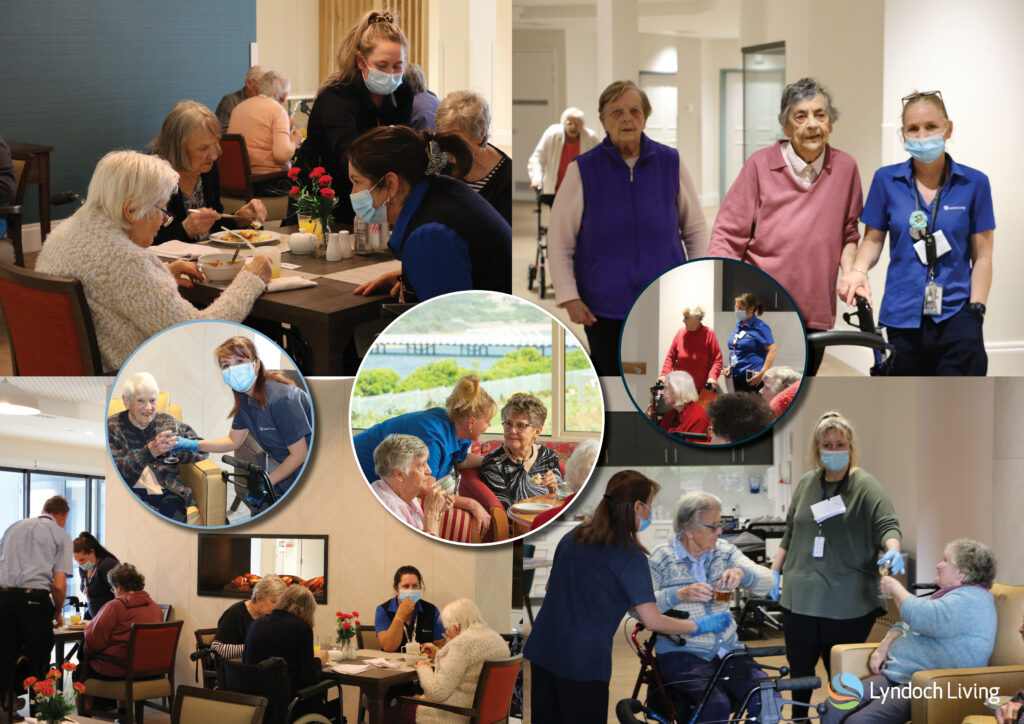 The deinstitutionalisation movement of the 1960s saw large institutions for people with disability and mental illness closed down and replaced with smaller community-based services. However, the same did not happen with aged care.
As a result, residential aged care continue to feel more like hospital environments than a home, despite evidence that residents have poorer quality of life and wellbeing in institutional settings.
Small housing model at Lyndoch
Five years ago, when Doreen Power became CEO of Lyndoch Living in Victoria's Warnambool, she initiated and activated an ambitious masterplan to transform the built environment to support a social model of care, rather than a medical model.
The plan includes a small housing model with a focus on best-pratice dementia design, along with integrated care, community partnerships, and co-located healthcare, education and social hubs.
Re-design
Stage 1 of the masterplan is now complete, with a newly refurbished residential aged care home designed with Eden Principles. The refurbished wing offers an environment that can adapt to suit residents' needs and can be altered according to their preferences.
Design considerations included the following:
Textures and colours were selected to provide connection to the community and tactile experiences.
Small spaces as well as larger communal spaces and outdoor gardens cater to personal preference.
Larger bedrooms and areas for pets.
More personalised dining experiences.
Incorporation of safety consideration, such as, wide hallways, continuous flooring and appropriate lighting.
There are 15 beds per home in the small households, which allow for a vastly different experience of aged care living.
Person-centred
The small household model supports a social model of care that is mutually respectful of the individual resident, and actively engages the resident in all aspects of their care for their physical, social and emotional wellbeing.
The resident is an active partner in their care, and encouraged to make choices and be actively involved in all decision making. They are seen as an individual, a person with life experience that should be acknowledged and valued.
The model of care promotes a lifestyle that enables residents to go about their daily lives to the very best of their ability, to live a fulfilled and active life.
There is also a commitment to connection with family, facilitated through an app developed by BarbCare 'Keeping Families Connected' for Lyndoch residents.
With a Primary Health Care Centre built on-site in 2021, residents will have greater access to healthcare, in a community setting.
Staff on the same page
It is important to give staff the same respect and dignity, as a benchmark for how to treat residents. Lyndoch staff align with a team model where every staff member is important, with a mindset of a shared understanding of the individual and their needs.
Staff are encouraged to take the time to sit and talk to residents, using that information in care planning and social activities. With a commitment to upskill and appropriately train staff, an education hub will be built on-site.
Built environment and care, hand-in-hand
The synergy between the built environment and the social model of care supports a healthy lifestyle and living well experiences.
Residents gain greater dignity and independence, and the opportunity to live as they wish. They are given ownership of their home, and can redefine common spaces for their social gatherings and activities.
While the care provided is equally as good, the experience of living in aged care is so much better.
More information
https://www.lyndoch.org.au/
Lyndoch Living was a Finalist in the innovAGEING Improving Consumer Choice Award 2020 and the innovAGEING Increasing Care and Productivity Award 2020.