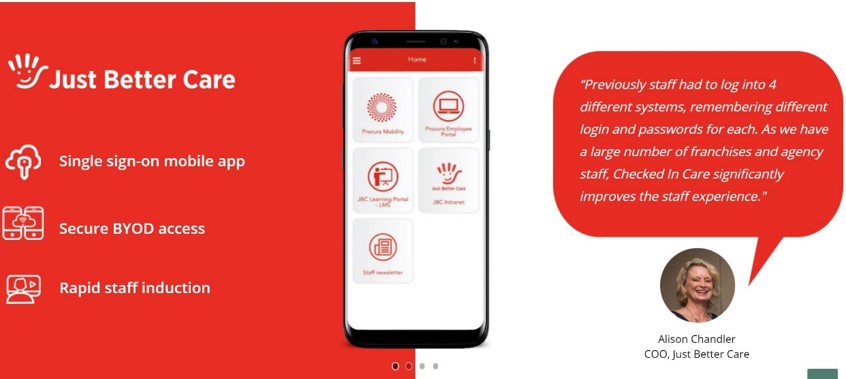 Traditionally, paper systems for logging client information and guidance documents for staff, made accessing up-to-date and important data problematic. With the onset of digital systems, not everything was transferred and in many cases providers are using multiple systems.
For Just Better Care (JBC), staff had to log into four different systems, with different logins and passwords, to access information they needed in the care of their clients, while learning, management and compliance information was kept on paper in binders and rarely used.
My JBC app
Addressing these issues, JBC partnered with Checked In Care to develop the My JBC app. This was introduced to enable staff to access everything they need in the one place. Staff simply download the app securely onto any smart device, and then have access to all the information they need in real time.
The interface is user friendly and intuitive. Staff are given one hour of training, and require minimal ongoing support, with just two requests for support per month across thousands of users. Staff now simply get an SMS welcoming them to their shift, and can access everything from a simple app.
JBC can manage all customer, families and staff collaboration needs and enquiries from a single screen, including the ability to track and manage feedback, surveys and complaints. The single management screen highlights client decline in usage and potential increase in depressive state, alerting staff to a potential client decline.
The ongoing work with Queensland University of Technology is constantly modifying the User Experience (UX) and the User Interface (UI) to have multiple, in-app options for the first time user, low literacy user and the contemporary user. This work is helping to further increase the usability of the platform by seniors.
Broad partnership
In partnership with Community Circles Australia, Procura/Alayacare and Checked in Care, JBC is helping to activate communities and their volunteers to better assist the care delivery outcomes of their providers. The integration with Procura has enabled a single view to the client of all impending visits, whether they be care workers, or via the Community Circles partnership, whether they be family, friends and volunteers who are assisting in the care of an individual.
The four-way partnership is now partnering with LGAs (such as City of Canada bay Council and Hunters Hill Council) and their respective community groups and volunteers to address the gap between services.
This is enabling a person in need to request a family member or friend or local volunteer to replace a lightbulb, take the bins out, or drive them to the shops, keeping their package money for items where they would prefer a paid worker. The solution also allows a broader range of self- management options.
Better service
Introduction of the My JBC app has seen a dramatic increase in the use of backend systems, resulting in less paperwork and dramatically improving efficiencies and resulting in better care and support.
Clients and their families have visibility of their key information and schedules, reducing ad hoc calls to staff by 40 per cent and calls to the call centre by 30 per cent. Customer satisfaction has increased and the number of complaints has decreased.
The overall outcome is an alignment with JBC's mission and objectives, to provide improved care outcomes, by activating local community supports, and keeping their services and ownership local.
Recognised by industry
Just Better Care and Checked In Care were recognised as finalists in the Increasing Care and Service Productivity category in the 2021 innovAGEING National Awards.