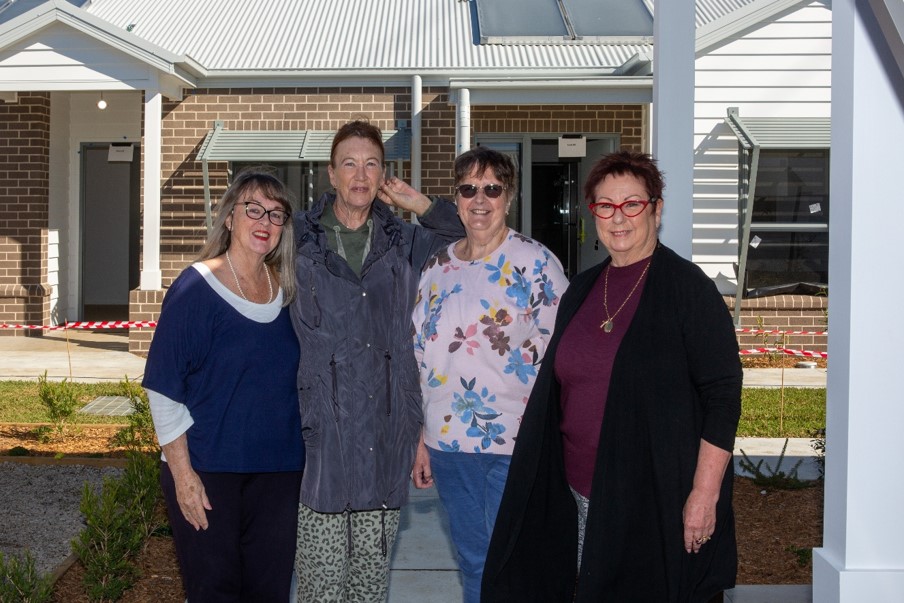 Social isolation, housing affordability and economic disadvantage are major challenges faced by women over the age of 55.
In Australia, full-time working women earn 18 per cent less than men, women on average retire with 47 per cent less superannuation than men, and 40 per cent of older retired women live in poverty—resulting in a significant risk of homelessness in this demographic.
An Australian-first solution
Motivated by these dire circumstances, the IRT Group decided to develop a co-housing initiative, Jasmine Grove, to provide independent living for older single women in need of secure accommodation who want to feel connected with others, while also enjoying a sense of privacy.
The innovative, collaborative housing model is a dedicated precinct inside IRT's new retirement village at Henry Brooks Estate at IRT Kanahooka in New South Wales, and the first of its kind in Australia.
Jasmine Grove consists of eight one-bedroom fully self-contained pet-friendly villas. The homes include assistive technology, smart devices, voice-activated appliances and lighting, emergency resident monitoring and IoT devices—providing important supports for ageing in place.
Residents also receive 50 hours of integrated IRT Home Care services during their first 12 months and can opt in for care services as they need them after this time.
The villas were built with integrated dementia design principles and there are home modification options available if required. They also benefit from sustainable solar power.
Jasmine Grove is intentionally designed to focus on line of sight on the shared pathways and community building to promote incidental social interactions, and the villas are set around a large shared space where residents can access the community building and vegetable gardens—facilitating friendships and a mutual support network.
A truly consumer-centric model
Jasmine Grove is a truly consumer-centric project, and was developed in consultation with consumers from initial concept to launch.
IRT was very intentional in their research and planning, involving women in their target demographic at every step—with their project lead accumulating more than 50 hours of direct listening and co-designing.
Even after the build of Jasmine Grove was complete, the women moving in were involved in many aspects of establishing the community—from developing a community charter, to selecting furniture for the community room, and establishing activities.
Incredible demand
Exploring the potential for collaborative housing in retirement living began for IRT in 2017, through a series of workshops with older people. The research consistently found overwhelming support for a co-housing model, particularly from older single women.
Designed for independent residents and those with mobility limitations and health challenges, Jasmine Grove has lifted the lid on the incredible demand for accommodation within the over 55 female population in Australia. With just eight villas available and more than 230 expressions of interest received, there continues to be unmet need for purpose-built accommodation.
Co-housing in the future
Jasmine Grove represents a new model of retirement living, enabling single older women to feel confident and secure in their long-term housing choice, in a community setting.
It re-interprets seniors living and offers a solution that does not just provide a home for women at risk of homelessness, it empowers them and restores their dignity.
At its core was co-design and it heralds a new era of consumer choice.
A winning initiative
The IRT Group was recognised for Jasmine Grove as the winner of the Improving Consumer Choice award in the 2021 innovAGEING National Awards.