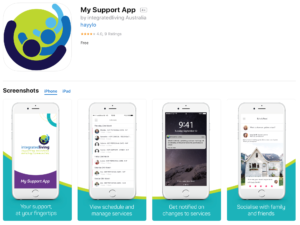 integratedliving Australia is a health care provider servicing rural, regional, and remote areas in all Australian states and territories except Western Australia. The organisation supported more than 21,000 customers last financial year, employing over 1,100 staff.
integratedliving had received feedback from customers that showed a desire for a more meaningful mode of communication, greater control over services, and a better means of engagement. To find a solution, they partnered with hayylo—a multi-award winning technology company focused on innovating customer experience through their cloud and mobile based platform—and its purpose-built communication tool that connects the back office environment with support staff, customers and their families.
A hayylo solution
By deploying the provider branded application, My Support App, the partnership brought the strengths of the hayylo platform to the core objectives that integratedliving Australia sought for their organisation.
The hayylo platform and branded app allows customers to view schedules, send enquiries and receive automatic change notifications. Enabling social collaboration with staff and family around their services, customers can even book and pay for extra activities and programs in the community, all through a branded app experience.
The hayylo platform then automates the routing of customer enquiries to the correct working groups, ensuring teams never miss a customer promise. The platform enables providers to gain deep analytics on the effectiveness of their operation and enquiry response times, as well as receive ongoing live feedback on services, preferences and general changes to customer needs.
The results
Integrated with their existing CRM, finance and scheduling platforms, integratedliving Australia has seen over 11,000 active users engaged through the platform, automating over 25,000 service notifications each month while seeing an 89 per cent acceptance rate.
With hayylo in place, integratedliving have seen a 23 per cent reduction in customer calls, a 27 per cent increase in scheduling efficiency and a 76 per cent reduction in short notice cancellations—a testament to customer desire to adopt the digital technology.
The future
Reinterpreting the concept of ageing is essential at a time in which the population that will be requiring the services of the aged, disability and home health care sectors will see unprecedented growth, and their demand for a more personalised experience will only increase.
The future customers that will be entering the later stages of their lives and enlisting the assistance of health care providers will bring with them a market-wide demand for greater autonomy, informing a new interpretation of what dignity and health in later life means in relation to their experience.
In order to remain in contact with the demands of their customers, and in turn foster the development of new business models that will allow the sector to facilitate their customers' desire for greater autonomy, providers will require innovative solutions like hayylo that allow for an enhanced level of integration, communication and data collection.
The hayylo platform allows communication and coordination that will see providers granted the opportunity to become more consumer-centric in their business models, as they will find themselves better able to understand and engage with their customers' needs and demonstrate a deep respect for their desire for greater autonomy and personalisation.
For more information, please visit www.hayylo.com.au