Safeguarding the health of seniors in long-term care facilities requires ensuring the individuals they come into contact with are healthy and free from transmissible disease. During the COVID-19 pandemic, the need to verify healthcare worker health status became more urgent in such facilities and as such, Spectrum Health explored options to more effectively verify health care worker vaccine status.
Spectrum Health was in a unique position as they supported the staffing and movement of healthcare workers across multiple long-term care facilities. In order to protect the health and well-being of their senior and aged patients, it became essential for Spectrum to adopt a safe and reliable alternative to the verbal confirmation that was typical when verifying health care worker health status prior to entry into facilities.
Verifiable Digital Credentials: Real-time trusted access to proofs
Spectrum Health Care partnered with Trybe.ID to pilot an innovative influenza vaccine verification process for their nursing and care home staff as a model for future COVID-19 testing or vaccination proof. Using verifiable credential (VC) technology, the pilot involved issuing an individual, digitally-signed, tamper-proof and encrypted credential to each care worker receiving the vaccine. These credentials were stored in a user-owned secure digital identity wallet and so health care workers in the pilot were then able to present high assurance, verifiable credentials in real time as proof of health checks and vaccinations necessary to enter the long-term care homes. These credentials also contained more detailed information such as the issuing and vaccinating authority, date of issuance as well as monitoring around expiration.
The outcomes and benefits to Spectrum Health of implementing verifiable credentialing technology was observed in the smooth and efficient mobility of health care workers across facilities. This ensured sufficient nursing coverage in long-term care homes to support the needs of the population therein.
This pilot was launched as a demonstrative model for when the Covid-19 vaccine is fully deployed. It can be used in a bespoke manner to track and trace, both the status of the health care workers, as well as that of the senior citizens they serve in long-term care homes. This will undoubtedly protect this population in an informed and data driven way, as seen in the workflow below.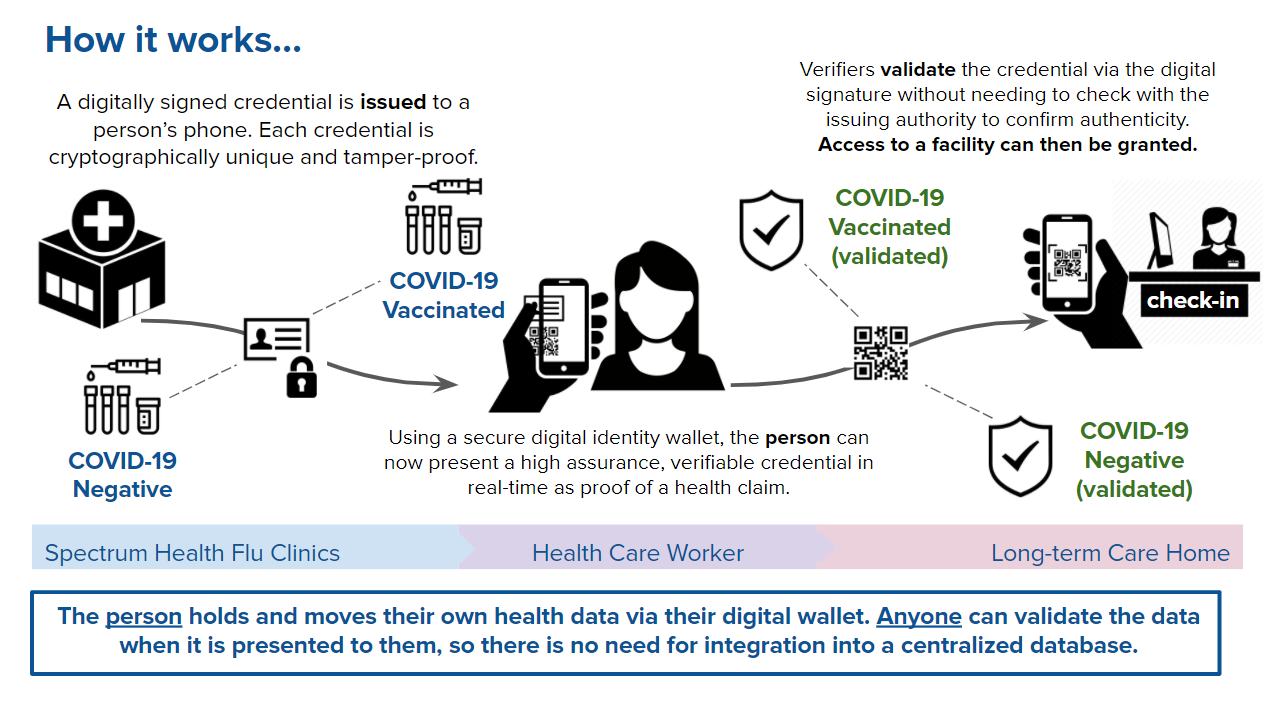 "Trybe.ID is an exciting step in the direction of validating vaccination records in the healthcare space, and as a Canadian home care provider we are thrilled to support a technology that will promote community safety and a return to normal," said Sandra Ketchen, Spectrum President & CEO. "This solution can make validating vaccinations not just more secure, but also much easier for both health care workers and institutions."
Chami Akmeemana, CEO of Trybe.ID, sees verifiable digital credentials playing a role in the life of seniors and senior care models well  outside of just vaccinations: "As more senior citizens embrace the notion of Aging in Place and personalized care closer to home, it is imperative that such models enable a patient and others in the circle of care to verify and trust the provider's credentials and this is where VCs have a natural fit."
For more information, please visit https://trybe.id.