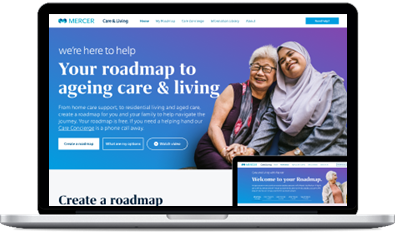 Australia's aged care system is widely known to be complex and challenging to understand, navigate and access.
There is desire from individuals for a trusted, independent, easy-to-use service to help support ageing care choices for their loved ones and similarly from employers, superannuation funds and consumer services groups that want to provide this service as a benefit to their staff, members and customers.
The CaLM solution
Care & Living with Mercer (CaLM) is a digitally-enabled, human-supported service designed to help older Australians and their families plan, implement, and monitor arrangements for their ageing care and living needs.
The portal provides a one-to-many digital service accessible at any time, while the one-to-one Care Concierge service is available for those who want to pay for professional expertise when needs are urgent or complex. Care Concierge personnel are sourced from Mercer Marsh Benefits, which has 300 allied health professionals Australia-wide who are specifically trained to have aged care industry knowledge, emotional intelligence and empathy to work with people in need and their families.
CaLM users receive highly individualised support to help navigate an often personally difficult time with less of the complexity and information overload strain than negotiating Australia's aged care system historically brings.
Collaborative design
CaLM was developed through a process of continual consumer feedback during initial market testing, design thinking workshops and closed pilot testing stages.
A group of six 'Foundation Participants' institutions collaborated to co-create CaLM with Mercer and Marsh. These institutions include employers such as Rio Tinto, IBM and Ramsay Health Care, and superannuation funds such as Commonwealth Superannuation Corporation.
Aged care industry experts AgedCare101 and Danielle Robertson were involved throughout, while aged care operators including Bupa and Uniting Care provided positive feedback and continue to explore working more closely with CaLM.
Innovative business model
The CaLM business model involves organisations paying an annual licence fee which allows them to provide the CaLM digital portal service to their people as a free benefit.
This model makes CaLM easily scalable and removes cost-of-use as a barrier for individuals to access the service in the first instance. Where individuals choose to use the Care Concierge service, this is charged to the user directly.
The number and range of possible institutions that could offer CaLM is significant. Since launching in April 2021, CaLM is already offered by employer, superannuation fund and wealth management organisations
Independent recommendations
Key to the value proposition is the independent nature of the service. CaLM receives no commissions or payments from care providers for recommending them or other services, such as financial planning and estate planning, and therefore provides advice and guidance without conflict.
The separate yet collaborative relationship CaLM has with providers across the Australia's national ageing care industry is critical. CaLM has dedicated personnel and process for due diligence on providers and services recommended to customers; however those providers are relieved to know their detailed information remains confidential and they do not have to pay to be recommended.
Recognised by industry
CaLM was recognised as a finalist in the Improving Consumer Choice Category in the 2021 innovAGEING National Awards.