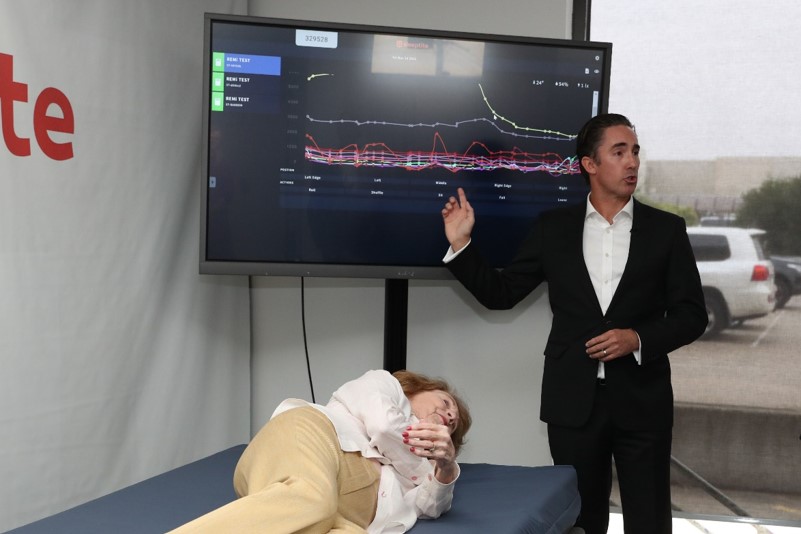 The 'industry standard' for monitoring aged care residents through the course of a night, a simple 'door check' conducted by carers on their rounds, may not be the most effective or efficient solution. Previous monitoring and fall prevention technologies were also inadequate, either invasive to the elderly, requiring the elderly to remember to wear a device or just antiquated and unreliable.
Cameron van den Dungen, CEO of Sleeptite, believes technology should be made to fit the person, the person should never be made to fit the technology. With this in mind, he dedicated himself to finding a better solution for monitoring older people in their bedroom.
In the discovery phase, he spent countless hours meeting and working with carers, registered nurses, occupational therapists, facility managers, CEOs and Board Members of residential aged care providers including Lifeview, Royal Freemasons, Heritage Care and Arcare.
Through his conversations, he was made aware of people's dislike of technologies, and being made to feel like guinea pigs. This informed the focus on delivering a 'nearable' rather than 'wearable' technology.
REMi
Following years of research, development and manufacturing design, Cameron's vision became a reality, and Sleeptite developed a world-first, patented, stretchable and scaleable system using wafer-thin sensors embedded into medical grade mattress protectors – REMi.
This nearable technology is invisible to the aged care resident but can track a person's presence, position, and posture in bed overnight and in real-time relays this information to a dashboard so a nurse or carer can prioritise quality care where needed, while allowing the person they care for to receive undisturbed sleep.
Supporting the new concept of ageing
The REMi system is purpose-built for the aged care industry, carers and most importantly the older Australians who benefit the most.
Cameron's vision and the resulting innovation, REMi, supports the new concept of ageing by utilising the power of data – for both diagnostics and communication – while preserving the person's dignity and privacy.
In residential aged care, REMi is being adopted into patient care practices and associated staff training programs, to ensure a respectful and individualised care experience.
REMi is also designed to work effectively in a home care situation, to improve quality of life and prevent or delay the need for residential care. The tool that can help unpaid carers look after loved ones with technology that will deliver peace of mind without the need to remove independence or require 24/7 in-person monitoring.
Recognised by industry
Up until Sleeptite started innovating in the aged care bedroom, there was very little development on adjustable beds, mattresses, and other sleep-related products for the age services industry. Sleeptite was recognised for its work as the only aged care innovation company announced as a finalist in the 2021 InnovationAus Awards for Excellence.
Cameron was also a finalist in the Age Services Innovator of the Year category in the 2021 innovAGEING National Awards.