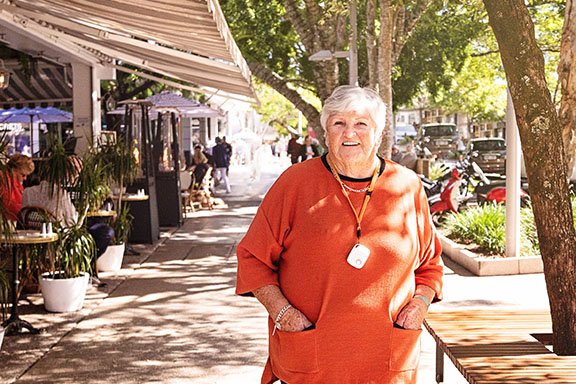 Australian health and aged care reforms have mandated a wellness and reablement approach to aged care, with services and the workforce needing to adjust their way of working with older people, to actively promote independence and participation in life's activities.
Bolton Clarke's clinical, care and research teams worked with customers and staff to develop their own evidence-based Model of Care: An Approach to Ageing 'Incorporating Wellness and Reablement' as part of a research project. This was especially important due to the limited number of studies exploring the older person's perspective on wellness and reablement approaches.
An evidence-based approach
Bolton Clarke's model is based on the principles of positive and healthy ageing and draws from chronic disease management strategies. It aims to ensure all people they work with are supported to live as well and independently as possible.
Aiming to promote independence, wellbeing and quality of life, it emphasises person-centred care, health prevention and promotion opportunities that encourage clients and residents to actively participate in their support and where possible, participate in self-management.
This model requires the organisation to be deliberately oriented to the needs and aims of the older person. It is designed to ensure the organisation provides person-centred, high quality services, working with consumers and carers while also meeting the funder requirements, the Aged Care Quality Standards and consumer expectations.
To support the model, Bolton Clarke has engaged two community partnerships groups bringing together older people and carers to help guide decisions around responsive service design and delivery, and adapt to changes.
Part of the bigger picture
A sustainable approach to wellness and reablement for older people must become part of a systemic, community-wide approach, so that the key principles are embedded within our culture, systems and care services. Only in this way, can we create a culture of respect and empower older people to remain independent.
The Bolton Clarke study findings suggest that enabling factors such as assistive equipment and technology, professional assistance, social networks and outings, are important to help older people overcome obstacles and act as protectors against negative attitudes of ageing.
Bolton Clarke's replicable Model of Care has application to clinicians and carers working in both community and residential aged care setting. The model ensures that the business supports workforce capacity building by providing training to both the clinical and paid carer workforce, while feedback from staff working in this way has demonstrated greater role satisfaction.
Recognised by industry
Bolton Clarke was recognised as a finalist in the Realising Wellness and Reablement category in the 2021 innovAGEING National Awards.