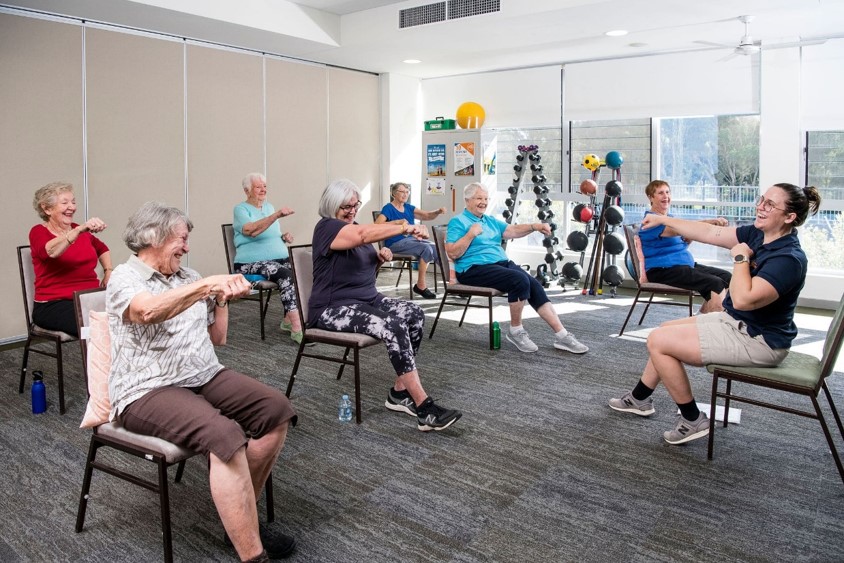 The Aged Care Funding Instrument does not allow funding for wellness services within residential care. This represents a significant issue, since wellness activities are an important part of a holistic approach to healthy ageing.
BallyCara decided to look for an alternative, sustainable method to enable residents' access to wellness services.
A sustainable solution
BallyCara's Wellness Program began in 2014, and is made accessible to all older people across multiple programs and funding mechanisms, including their residential care program.
The program offers many wellness activities that are not typically funded in residential care, including individual exercise physiology sessions and group classes delivered by an accredited exercise physiologist (focusing on falls prevention, brain training, Pilates and strong bones).
Older people are able to access the program using private health insurance, home care funding, short-term restorative programs or by paying privately (at a discounted rate). This highly diversified funding offsets the cost for allowing facility residents access into the Wellness Program, who otherwise wouldn't be able to access it, free of charge.
As older people may access the program across many funding streams, BallyCara's Wellness Program is also able to provide continuity of care for those transitioning from home care to residential care with BallyCara.
Person-centred and community-focused
When a resident expresses interest in accessing the on-site Wellness Program, they are provided details on the program and are made aware that the program is based on their goals and preferences. If a staff or family member refers a resident to the program, a consent form is provided directly to the resident to ensure they aware and involved in the decision to attend.
The Wellness Program allows residents to choose the services they would like to receive; whether they would like on-on-one sessions, or group sessions; and where they would like to receive services, in their home within the facility or in the Wellness centre itself.
Care is self-directed, focusing on what residents want, rather than what others think they need, resulting in more positive physical, social and emotional outcomes, and improved capability for achieving activities of daily living. Helping people achieve their personal goals is key.
As the Wellness Program is not limited to residents, participants can maintain a connection to their local community.
A multidisciplinary approach
BallyCara's internal referral process fosters the operation of multidisciplinary care teams, which is well recognised as clinical best practice, and allows care to be coordinated across allied health services and the residential care facility, to optimise health and wellbeing outcomes for their residents.
Residents are then offered an initial appointment, which can take place either in-home (in the facility) or at the Wellness Centre. Assessments and progress reports are provided back to the residential care facility, which allows for more appropriate care planning, with the ultimate goal of increasing independence and improving resident quality of life.
Recognised by industry
BallyCara was recognised as a finalist in the Improving Consumer Choice Category in the 2021 innovAGEING National Awards.