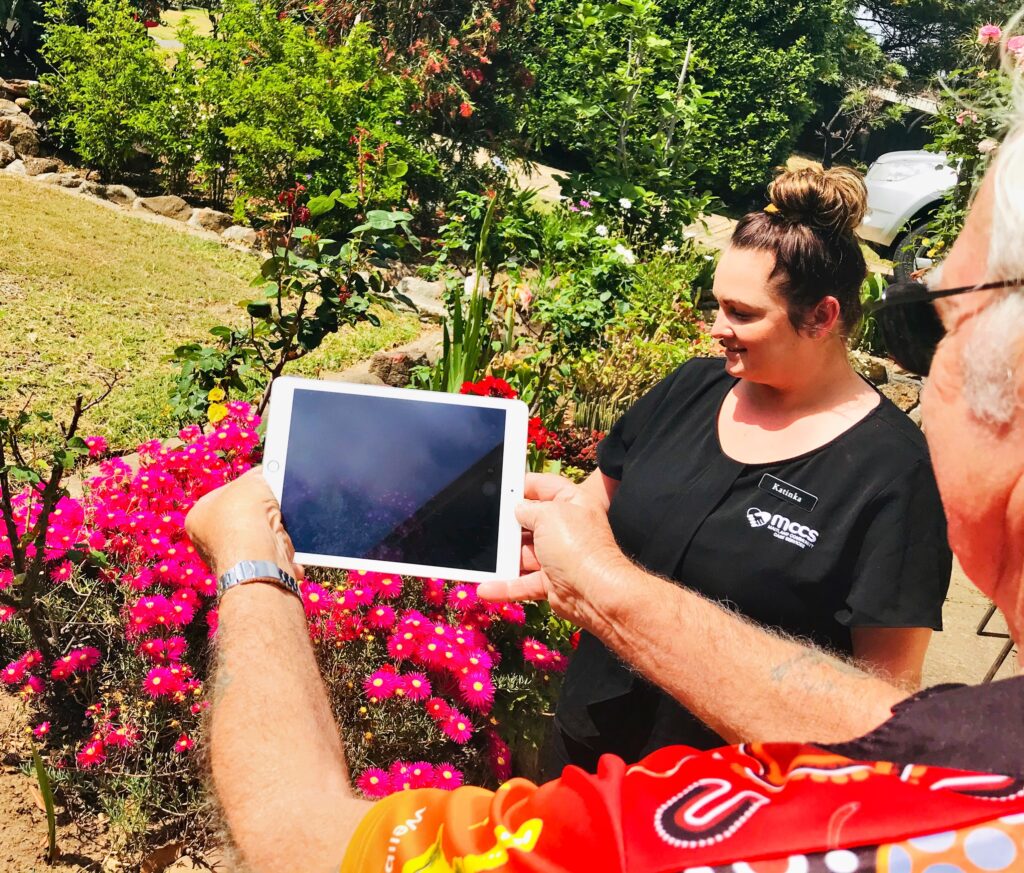 We live in a digital world, and many older people tend to miss out on what's on offer, struggling to know where to begin or who to turn to, for support.
There is a perception that seniors do not want to engage with technology, or they can't learn how to use it. As a result, they can become further isolated from the world around them, and other generations.
Aged care and tech partnership
ADSSI – a home and community care provider – believes seniors can benefit greatly from interacting with technology, they just need to be taught how to use it.
Even before COVID-19 struck, ADSSI was well underway with co-designing and establishing the essential building blocks with their technology partner, YourLink, to make the transition to digital easier for clients – in a way that is designed with the person, not the technology in mind.
Together they created the Digital Connection and Connect with Tech programs, both supported by YourLink, for their clients.
New service offerings
The Digital Connection program provides clients with a new iPad, the vital training and personalised support  needed to use the iPad, and the ongoing support and remote management tailored to suit those who live independently at home.
The Connect with Tech program involves training for over 100 staff across three sites to become Tech Mentors, with the aim of providing client-friendly technology support in the home. Tech Mentors already have a personal connection with their clients as Community Support Workers, and bring their own individual qualities of empathy, care and understanding, but needed to be upskilled with digital mentoring capability.
ADSSI and YourLink have co-designed the programs to address a number of consumer challenges – like anxiety, bill shock, passwords, lost devices, accessibility, scalability, training and support – so they can participate in all aspects of life.
Client-focused
The Digital Connection and Connect with Tech programs have been developed with clients at the centre of the design, making this about more than just devices.
ADSSI's programs focus on the digital transformation and literacy needed for clients and staff, by bringing skills, training and support together with smart devices.
By creating the space for our staff to spend one-on-one time with their clients as Tech Mentors, they are able to sit, listen and respond to client requests in a personalised way, which accelerates clients' learning and engagement with online services, their community, family and friends.
At the core of the service design is:
Supporting clients and staff to stay physically safe and healthy
Aligning day-to-day living budgets
Building exposure and confidence in using technology
Addressing concerns and fear over online privacy
Accommodating various personal health conditions, accessibility or mobility requirements
Supporting in a way that is personalised
Being fun, practical and engaging

An inclusive approach
Through the Digital Connection and Connect with Tech programs, ADSSI's clients develop digital confidence, and are able to engage in online interactions, with a trusted Tech Mentor to reach out to, for help.
The result is ADSSI clients enjoying the comfort of home and peace of mind learning something new with someone they know and trust, and have a whole new world opened up to them.
More information
https://www.adssi.com.au/
https://www.yourlink.com.au/
ADSSI with YourLink was a Finalist in the innovAGEING Realising Wellness and Reablement Award 2020.