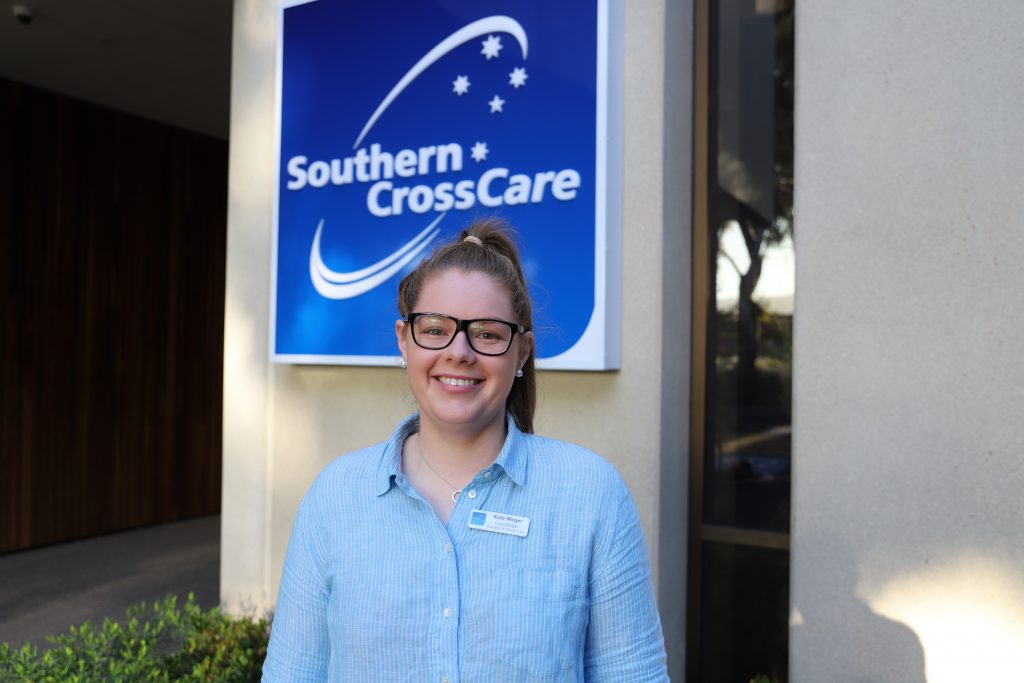 In order to deliver the care older people deserve, providers must ensure they have staff with the right training, skills and capability.
By innovating training systems and processes within their organisation, they can effect the necessary changes. Wound care is of particular concern, as it requires the right knowledge to manage appropriately, and can be debilitating if not resolved. Across residential care in Australia, around 10,400 pressure injuries and 2,500 other ulcers occur each year.
Looking within
Southern Cross Care (SA, NT & VIC) Inc has taken seriously its role in upskilling its workforce and meeting its own workforce demand. Led by Kate Weger, Group Manager of Education, Clinical Care and Engagement, they have taken many innovative steps to ensure their services are provided by a highly skilled, compassionate and collaborative workforce.
In 2020, they launched a graduate nursing program which saw 42 Registered Nurses and Enrolled Nurses join Southern Cross Care and/or upskill into a nursing role from a pool of more than 600 applicants.
The provider has also been proactive in relation to wound care, to support its community to be 'better for life'.
Focus on wound care
The wound champion program was created to improve wound management and support healthy ageing. Through the program, Kate has fostered a culture of critical reasoning among nurses to achieve better outcomes for residents, by reducing wound prevalence and shortening healing time.
The wound champion of each home is the 'go-to' clinician for wound management and the promotion of healthy skin. They liaise with each other and refer complex wounds to the internal wound specialist team.
Beyond this, Southern Cross Care has instilled capability in wound care across all its staff members, through training and education, via its dedicated training hub. Education for wound champions is ongoing, with regular meetings of the Wound and Healthy Skin Promotion Champion Committee, where emerging evidence and resources are reviewed.
Long-term change
The wound champions were invited to help develop a more efficient wound management system, to effect long-term change. Launched in 2019, the system is supported by wound staging and classification training, and includes master wound lists to allow each residential home to track their wound prevalence easily and efficiently.
At the heart of this is a commitment to supporting resident health and wellbeing, through wound management and prevention. At every opportunity, wound champions advocate for residents, their care preferences and their right to healthy skin.
There are also benefits in relation to governance. Master wound lists are used to report to Southern Cross Care's Board and sub-committees, in addition to information about pressure injuries and skin tears, which has improved transparency.
Restoring quality of life
A 72 year-old man was transferred to Southern Cross Care with end-stage kidney disease, severe bilateral leg ulcers and non-weight bearing full sling lifter. The hospital had given him three options: bilateral above-knee amputation; live with the wounds and their symptoms; palliation.
The wound management team at Southern Cross Care, working with multidisciplinary health professionals, worked to heal the wounds. Two days before Christmas 2019, his wounds were fully healed, he was able to walk and drive independently again, and discharged home to be with his family.
This is what good care can do, with the right systems, processes and training in place, and the right commitment.
More information
https://www.southerncrosscare.com.au/
Kate Weger was Winner of the innovAGEING Age Services Innovator of the Year Award 2020.